Circuitos Impresos, S.A. has defined a Quality System that focuses on ongoing improvement and aims to achieve ZERO defects.
Said Quality System is Audited and meets the ISO-EN-UNE 9002 Standard.
A strict and thorough quality control system means that we can ensure that our products meet the highest technical standards. To achieve this we rely on:
Personnel that is highly qualified. We have been acquiring experience of quality management for printed circuits since 1965, an experience that we pass on to our employees.

Raw materials of the highest quality, duly homologated by our technical department.

Quality Control System, permanent and continuous during the entire manufacturing process. (SPC Controls). 

Equipment that complements and covers all the control required in order to achieve a perfectly finished product. 

Electrical testing equipment, 100%




Equipment for automatic optical testing (AOI)

Laboratory: chemical, metrologic and metallographic lab that helps us to control the entire process.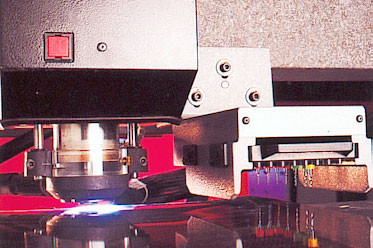 All of our circuits are delivered to clients: 
100% electrically controlled (continuity, insulation, impedance values)

Visually controlled in accordance with the strictest UNE 66 020 73 technical requirement, meeting the rules laid down by the client (otherwise IPC A-600 G)
Our product's quality allows us to satisfy and certify the most demanding requirements based on the following standards and specifications:
The client's own specifications.

UL 94-VO. UL file E-92356 (M).

ISO-9002. (Certificates: ENAC nº 00.0142 y BVQI nº 63868)
USED ​​STANDARDS
NFC-93-050; NFC-20-602; NFC-93-713 
NFC-20-603; NFC-20-605;
NFC-20-627.
MIL-P-55110-C;
MIL-P-13949-F.
UNE: 66902; 20621; 20524; 21342;
UNE: 20620; 21357; 53189; 21345.
IPC: A-600-C Rev.E; SM-840; TM-650.


Polígono Industrial "Los Ángeles".
Calle los Herreros 21.
CP 28906 Getafe-Madrid, España.
info@circuitosimpresos.net